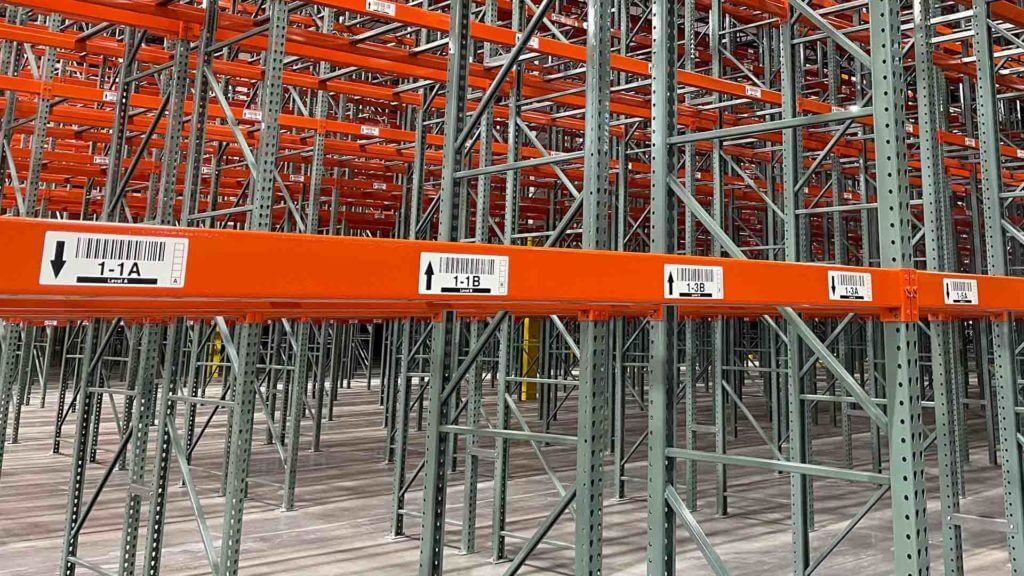 Challenge
Organize a new warehouse with location labeling throughout the facility.
Solution
Location labels placed on racks and hanging above floor locations.
Story
A third-party logistics company was in the process of building a new warehouse facility. All the product locations were determined, and racks were installed, but they needed location labeling to keep the warehouse running smoothly. This is a big undertaking, and the customer was looking for a trusted partner to help them with the job. They knew the team at EMP was just the partner for the job. The EMP team began by meeting with the customer to discuss location and create a facility-wide spreadsheet with each location. The warehouse facility has 25,000 rack locations each needing a label. Each label contains a barcode with the aisle location, rack location, level, and arrow to indicate location. There are also hanging signs to signify floor locations on the factory floor. Each floor location is taped off with yellow tape and has a location hang sign above. One side contains all the even aisle locations, while the opposite side contains all the odd aisle locations.
The location labels are scanned with a Zebra MC9300 extended range barcode scanner as product is placed or removed from the location. This helps the customer track what product is going in and out of their facility. The facility is now organized, labeled, and ready to start shipping.
Do you have a new warehouse that needs location labels or an older warehouse needing updated labels? Contact the team at EMP today!