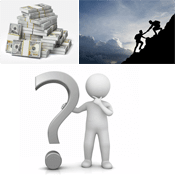 You can't have your cake and eat it too, that is the old saying. Corporate Greed versus Servant Leadership. We pick Servant Leadership. And no, you cannot have both, but you can still be profitable and provide excellent service. Sure, you must make a profit, even "Not for Profits" must make a profit, they just re-invest those profits into the charitable cause that they serve. But what is more important, maximizing profits or providing excellent service. Serving your customers, your employees, your vendor partners, and your communities. It is all intangible; it is all about attitude, and it makes all the difference in the world.
Companies that focus on maximizing profits are easy to spot. They don't really care about their customers or their employees, they focus solely on the bottom line. Their customer service is not very good, it is difficult to contact someone for help. They have high turnover amongst their employees because they don't really care about them as people. Greedy companies don't really listen to your needs; they start talking about themselves first and then immediately start pressuring you to buy. They have a script that they use for sales, again focused on them and not you. They make it hard for you to walk away from them by forcing you into contracts that auto-renew and auto-increase. In the worst cases, they cheat and skimp to maximize profits.
Similarly, spotting a company that focuses on service is also easy. Cheerful people that are easy to contact and want to hear about you and your issues. Solutions that don't lock you into them exclusively. Employees that have been with the company for a very long time and have tons of experience. Companies with customers that keep coming back again and again because of the great experience that they have.
But let our website speak for itself! –> WHY EMP
Why EMP? Because we…
Bring you the best value, not just the best price.
Come see your operations first-hand in order to best understand your needs.
Offer ongoing, onsite support, and will be there for you after the sale.
Are knowledgeable, responsive, and easy to do business with.
Think long-term and are in this for your success, so that we may enjoy a lasting business relationship.
Focus on barcode data collection, product coding, and RFID. We are experts in these fields.
Partner with only the industry's best hardware and software producers.
Are a solutions provider, bringing you hardware, software, integration, consumables, and support.
Have in-house integration experts for the products that we sell.
Come see the difference and as always, contact us with any questions!