Last month, we talked about marketing, its mysteries, and how we have navigated marketing over the years. We did not touch enough on our YouTube Channel, and as I write this, we are adding more and updated content. Sure, we do these videos as a service to our customers, but it has also proven to be one of the better marketing tools in our bag.
Stand-Alone Scan and Print has been the star of our YouTube show, reaching people across the globe with a solution that we can easily design here and deploy anywhere. But support and training videos are also at the heart of the content we create.

Our playlists include a whole series that we did for BarTender. We focus on videos that address the common support calls that we get from our customers. Another series is on cleaning and calibrating printers. This content is also available from Zebra, but since our group is on the front-line answering customer support questions every day, we usually have a slightly different spin on the problem and possible solutions.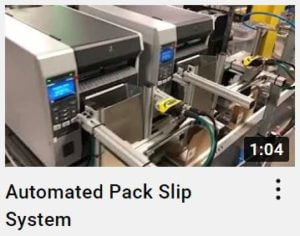 We are also developing some new videos for the EMP products that we have created over the years. Label printer slides, stands, and covers for example. We have static brochures for these products, but they come nowhere near the impact of seeing a video on how you can use these in your operations to increase efficiency.
Finally, we have found that sending a customer a video of a project running before we bring the project to them and install it, is very helpful. So, there is a sprinkling of these videos on the site as well, showing you both some of the cool work we can do as well as helping to generate project ideas. Oh yeah, they are fun to make too!
Click here to check it out! Also, please contact us if we can be of service!