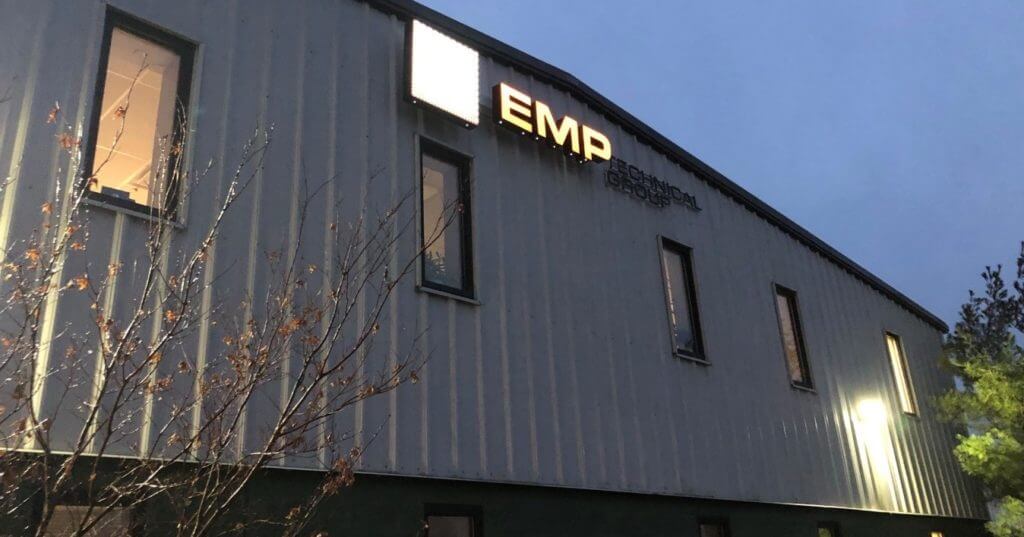 It has been 3 ½ years since the EMP Tech Group acquired eSolutions in Lafayette, Indiana. The eSolutions group is still with EMP, adding a fantastic layer of skills and experience, thriving in our combined companies. One thing that was a big part of eSolutions was the office in Lafayette. There were still three years left on the lease and several people working out of that office, so it made sense to keep the facility around. We even had an excellent new backlit EMP sign made for that office.
But the pandemic has made many changes in how we do business, and with most of the former eSolutions folks working from home or now at our corporate building in Westfield, keeping the Lafayette brick and mortar location didn't make sense once the lease was up.  But what about that beautiful new sign? Well, we moved it to our building in Westfield and had it installed up high so you can see it from State Road 32, especially at night!
This picture has many meanings, a new sign on the old building, but in the dawn of a new day. We look forward to returning to our new normal and having a great new sign on our facility as a symbol of that change.