Earlier this year, we asked, "Is Mobile Power Now Self-Evident"? Meaning that the use of mobile power carts is becoming so commonplace in the warehouse and even on the manufacturing floor that it may no longer be necessary to convince the customer that they're needed. The time savings and ability to reduce worker fatigue are so well known now that the job of selling the product is only to help specify which cart is suitable for the application and to provide pricing.
We recently received a product update from NewCastle Systems, our industry leading, partner for mobile power. NewCastle's continued investment in their product line is certainly self-evident! Below is an image showing the availability of a lithium-powered battery to replace sealed lead-acid batteries in either existing carts or even new carts. The benefit is huge weight savings without loss of power capacity. Add to this the 3-year warranty on the batteries and 10X charge/discharge rates and looking to upgrade your existing power carts becomes a no brainer.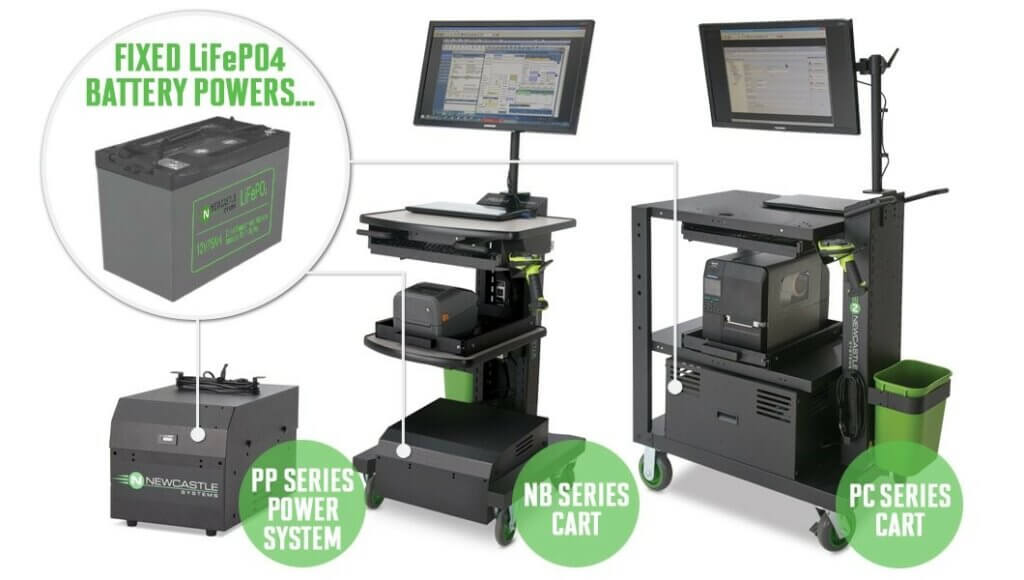 If you have a legacy NB or PC cart from NewCastle and it is time to replace the lead acid batteries, you should strongly consider replacing them with Lithium. It will cost more, but you will not be replacing the lithium batteries for a long time and your work force will thank you for the weight savings of up to 100 pounds.
Contact us today for more information on how mobile power can help your operations!