One of the many challenges of RFID applications is that you cannot just pick up a scanner and scan the RFID tag into the active field on your PC as you can with barcode scanners. Or can you? With the Zebra DS9900 handheld RFID scanner, you can.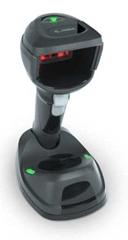 It is one of our tricks to use a product designed for retail applications, in a light manufacturing or warehouse environment. The best thing is that this device also includes a barcode scanner that can connect via USB to your PC. This allows you to do hybrid scanning in your project, reading barcodes when that makes sense and using the handheld RFID reader when that is more appropriate.
Most of the time when you are using RFID, you are doing unattended scanning. Reading tags or multiple tags from products, as they are moving down a conveyor, or go through an RFID portal on a pallet jack, or forklift. But sometimes, you just need to pick up a single product and scan that RFID tag into an open prompt on a PC. The DS9900 with RFID is perfect for that instance. To learn more about our RFID capabilities and how we can help you with your RFID automation project, our website is the place to go. When you are done, let us know and we will come to see your application and put a project together for you to improve your efficiencies and quality.