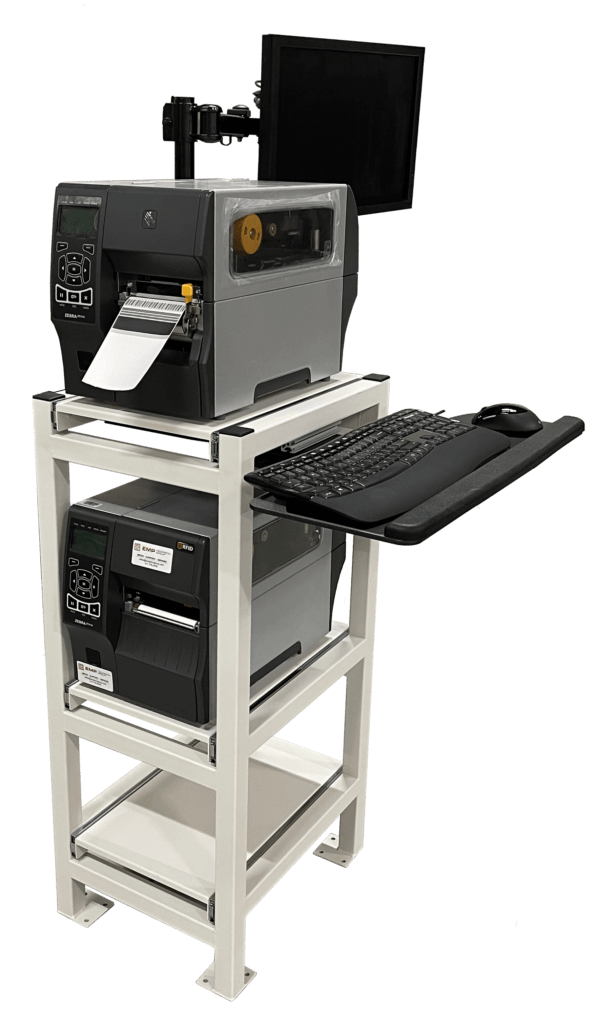 Challenge
Create a custom printer stand with dual printers and PC/keyboard mount.
Solution
Custom EMP printer stand with printer slides, PC mount, and keyboard attachment.
Story
Industrial printers can be found throughout any warehouse or manufacturing floor. Often, they sit on a random shelf or any flat surface that is available. A tier 1 automotive supplier was looking for a better way to organize and utilize the industrial printers on their shop floor when they received a monthly newsletter from their partner, EMP Technical Group. This newsletter highlighted a custom printer stand integrated with Zebra printers. The customer liked the design of the stand, but they reached out to EMP to see if they could customize a few more items for them.
The team at EMP quickly responded and began engineering a custom printer stand for the customer. The first request was to add a keyboard to the stand. The engineers at EMP sourced and mounted the keyboard stand. The second request was to add a PC to the printer stand. EMP added a ThinClient PC to the stand in a well-protected location. The customer also decided to add the printer slides that EMP offers so the printers can simply slide out whenever maintenance or cleaning is needed.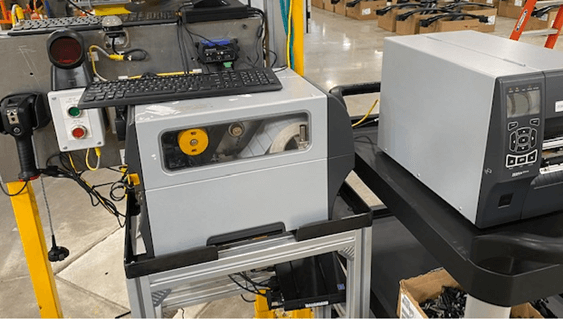 This solution greatly simplified the customer's previously haphazard printer/PC set-up. After receiving their first printer stand, the automotive supplier quickly saw the benefit and decided to add 2 more printer stands at various locations. With 8 locations throughout the United States, there may be many more customer printer stands for this supplier.
Are you looking to organize the industrial printers on your shop floor? Reach out to the team at EMP today to create your custom printer stand!