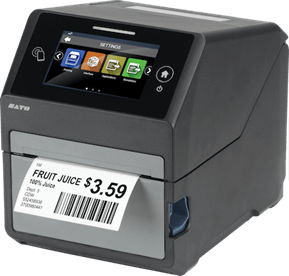 We lost some of our ability to do Scan and Print with the latest version of Zebra printers.  So, we did a search of the industry and settled on Sato printers as the best way to move forward.  Sato has a programming language called AEP (Application Enabled Printing) that our tech services team was able to pick up in no time.
A bonus is that now can use a USB scanner to scan inputs into the printer.  With the Zebra solution, we had to use a serial scanner with a separate power supply.  Additionally, we now have total control over the display and can use all of it for customer's logos, prompts, virtual buttons, etc.
Check out this video featuring an application that we recently did using the Sato CT4-LX printer with a Zebra handheld scanner.  All in healthcare white since the customer's application is for hospital use. 
Also, EMP packaged all of this up in custom packaging for the customer along with their labeling on the boxes.  This allows the customer to ship the kit out as a finished product with the EMP custom program already on the printer.  Along with the hand scanner all pre-configured, a roll of labels, and a roll of ribbon.
You can find all of this and more on our website here – Scan and Print.