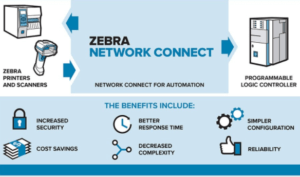 Continuing the theme of highlighting obscure Zebra connectivity tools, this month we focus on Network Connect. This is a tool from Zebra that allows you to connect both scanners and label printers directly to your PLC without the need for much more complex PLC programming.
For Link-OS enabled Zebra printers, this is a firmware upgrade. For Zebra DS3600 scanners, there is some additional hardware needed. The recent demand that we have been seeing the most for is the printer firmware. There are many use cases for printing labels on the plant floor directly from a PLC.
Not only is the PLC programming greatly simplified, but the speed of printing on the production floor is greatly increased. Not sure how to get started with this, no problem, the technical services group at the EMP Tech Group has been working with customers to use this feature for some time now. As always, contact us for all your labeling, mobile computing, and RFID needs.