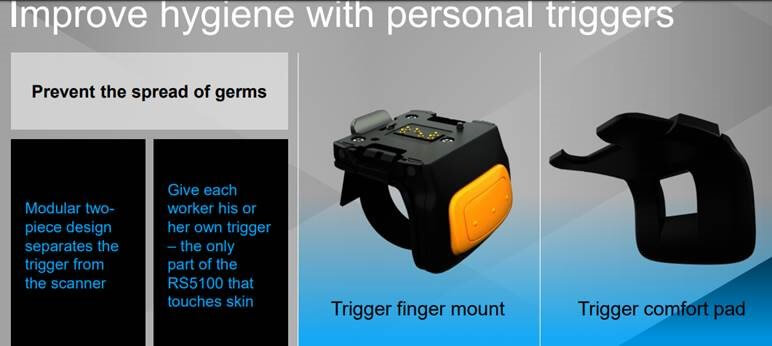 COVID-19 has caused us to rethink how we interact with others and the surfaces we touch. Unfortunately, wearable scanners and terminals fall into this category. So what's the solution?
In the case of wearable barcode scanners, Zebra is saying to give every employee a trigger. Specifically, with the RS5100, Zebra has made the trigger section of the scanner easily removable and very affordable so everyone can have their own. Just clean the scanner between uses and snap on to your trigger. 
To a lesser degree, you can say that about the wearable terminals such as the WT6000, give everyone a wrist mount to use and just clean and snap the WT6000 in for each shift. But many of our customers use wearable devices with a non-wearable mobile computer or pair them with a stationary or forklift-mounted computer.

Regardless of your use case, the benefits of wearable scanners and terminals when picking small items are immense, and you can have your employee's health as a priority and still use wearable devices too!